YOU HAVE OPTIONS
HydroHoist is the only boat lift manufacturer to offer three, yes three, boat lift control options. We boast one of the industry's most innovative line of controls. Our remote control, HydroLaunch, allows you the ability to sync your boat lift operation and your dock's lights with the remote and control it from up to 500 feet! All of our HydroHoist Boat Lifts come with the standard control option unless otherwise noted. Contact your local HydroHoist Boat Lift Dealer about upgrading your boat lift's operational controls today.
Standard

The Standard Control package has a smaller footprint allowing for increased room and better access to your boat and dock.  The patented design means less noise AND the fastest launch time in the industry while increasing the life of your lift's motor.  This standard control comes with each boat lift unless otherwise noted.




Have an old control? Upgrade!
Push Button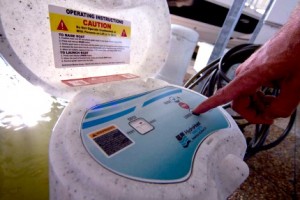 The Push Button Control package uses automatic valves, eliminating the need for handles and levers. One button to lift, one to lower, and one to stop makes using your lift effortless.
Have an old control? Upgrade!
Remote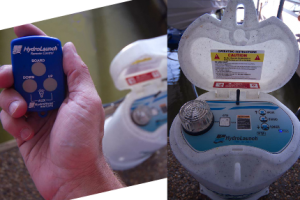 The HydroLaunch™ is capable of operating most brands of hydropneumatic style boat lifts which are intended to be controlled with one air valve. This control is not suited for applications that require multi-valve air control.






Have an old control? Upgrade!